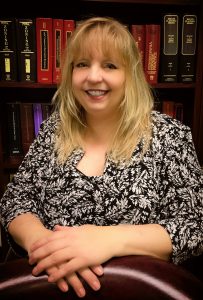 Rachel joined Sebring & Associates in 2019.  Born and raised in New Alexandria, Pennsylvania, Rachel graduated from Saint Vincent College in 1996, where she earned a B.A. in Business Management.  At St. Vincent College, Rachel was a member of Pre-Law Society and Alpha Lambda Delta National Honor Society.  Rachel received her Juris Doctorate in 1999 from The Dickinson School of Law, where she served on the Appellate Moot Court Board.   Rachel is a member of the Pennsylvania and the Westmoreland County Bar Associations, and is admitted to practice in the Commonwealth of Pennsylvania and the United States District Court for the Western District of Pennsylvania.
Rachel served as judicial law clerk in the Westmoreland County Court of Common Pleas, for Judges Daniel J. Ackerman and Gary P. Caruso, and has clerked for the Commonwealth Court of Pennsylvania.  In addition to private practice, Rachel was an associate at Loughran, Mlakar & Bilik and Avolio Law Group, LLC in Greensburg, Pennsylvania, where she represented municipalities and municipal authorities, focusing on subdivision and land development, zoning and land use, oil and gas, contracts, and employment law and policies.  More recently, Rachel was associated with John M. Ranker & Associates, P.C., in Greensburg, Pennsylvania, where she engaged in general civil practice/litigation involving such matters as real estate, oil and gas, restrictive covenants, partition of real property, real estate failure to disclose cases, petitions to set aside tax sales, and contracts.
Contact Rachel M. Yantos, Esq.