What's covered and what's not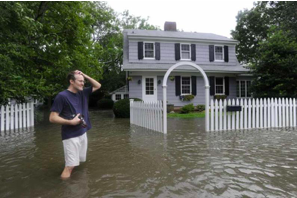 From Sebring & Associates: Consider that flooding occurs in every state and can be caused by snowmelt or even clogged or overworked water pipes. In 2018, the Pittsburgh area suffered many incidents of flash flooding. This is only one way that floods can ruin property and threaten life. This article from New Homes Source provides a good introduction about considering home flood insurance.
Every homeowner whose loan is touched in one way or another by the federal government must obtain flood insurance if their home is located in an area that is prone to flooding.
That is, if your loan is backed by Uncle Sam — insured by the Federal Housing Administration (FHA) or guaranteed by the Veterans Administration (VA) — or sold on the secondary market to either Fannie Mae or Freddie Mac, you are required to carry an insurance policy that covers flood, one that is separate and apart from a homeowners' policy.
My Home Is Safe, Right?
Buyers who escape this edict may want to consider the extra coverage anyway. It could be the best insurance you will ever buy, especially at the relatively inexpensive cost. Indeed, even though rates are rising, flood insurance is one of the best deals going.
Don't make the mistake of thinking your homeowners' policy covers your home for flooding. It doesn't. So if your home is damaged by a hurricane, tornado or just heavy rains, you are not covered — unless you have a separate flood policy.
The Cost of Flood Damage
According to the Federal Emergency Management Agency (FEMA), which operates the federally subsidized National Flood Insurance Program (NFIP), flooding occurs practically every day, practically everywhere. And it is costly. From 2003 to 2012, total flood insurance claims averaged nearly $4 billion per year. And between 1978 and July 2013, the NFIP paid out more than $48.1 billion in claims.
Surprisingly, perhaps, flooding is the nation's most common natural disaster. About 90 percent of all calamities in the United States involve flooding. What's more, no state is untouched, for floods occur in all 50 states. When people think of floods, they see 20-foot walls of water. But even a few inches of water can cause thousands of dollars in damage.
In areas prone to flooding, there is a 26 percent chance that a homeowner will be hit by a flood of some kind at least once during the life of a 30-year mortgage….
Continue reading on www.newhomesource.com to see the whole article, infographic on flooding, and an important recent update.